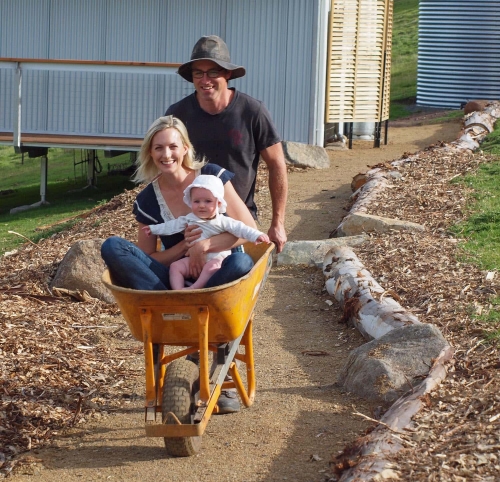 Who We Are
We are Jimmy and Clare. Clare is a native Tassie girl and Jimmy is from the UK. Our story began working as overland tour leaders in Africa and South America but after several amazing years on the road together, the yearning to put down some roots eventually got the better of us and we decided to move to Tasmania and begin to work on our dream of setting up a B&B accommodation, our way of continuing to travel without moving.
We fell in love with a 2.5 acre block just 20 mins from Hobart nestled in the foothills below Mt Wellington with expansive water views and it's own little dam, lush green pasture and a small collection of native trees…there was also the ramshackle mob of neighbouring sheep, goats, alpacas, marauding native hens and inquisitive wallabies, pademelons and mischievous possums to keep us constantly amused…
Fast forward a couple of years and we are now Clare, Jimmy and newcomers Priya and Zander. With our passion for preserving nature and creating beautiful spaces in beautiful environments, we are delighted to bring you accommodation that ticks all the boxes. We set out to create something unique and environmentally sound and thanks to all the brilliant people involved in the project (notably architect Stephen Sainsbury) we are proud to bring you our dream project, Hobart Hideaway Pods.
Clare is full time Mum to Priya and Zander, chief organiser, gifted interior designer and do-er of all things Hobart Hideaway Pods. Jimmy is carving out a new career in horticulture at Government House Tasmania, so we spend our spare moments out in the garden; dreaming and working on developing native plantings around the block and (eventually) growing our own organic fruit and veg.
Connect With Us On Social Media
pod1
/pɒd/
noun
A small encased space that is cosy inside and protected from the outside. They snuggled together inside their pod.
verb
They went podding around Tasmania.